Tackling plastic waste with one upcycled Thela at a time

"Plastic is a unique and beneficial product that demands to be upcycled. Because plastic fails to fit our circular economy model, upcycling is a great way to make ends meet."

What is upcycling of plastic?
In simple terms, upcycling refers to making use of discarded items in a way which reduces pollution and elongates the product life cycle. Upcycling plastic is a great way to save plastic from trashing our environment by making better use of it.
In recent years, upcycling has gained popularity as a sustainable solution to reduce waste and promote eco-friendly practices. This trend is not just limited to India, but has been embraced across the globe. Upcycling is being used in various industries, from fashion to interior design, to create unique and innovative products that are both environmentally friendly and aesthetically pleasing.
Previously on Mission Sustainability, we have met change-makers who have worked on recycling plastic which is an excellent way to ensure a circular economy. We also busted some myths about plastic recycling and argued about the concept of compostable plastic.
In short, we have covered almost everything you need to know about plastic. However, it was time we bought upcycling into the picture. With India's entrepreneurs going green, sustainability is now being focused on more than any other thing (and we hope it's not just a fad). 
Diti Kotecha, Eco-preneur: Thela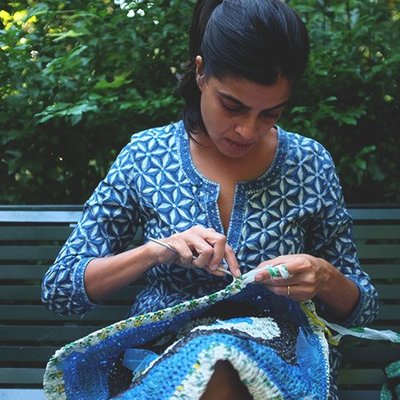 Meet Diti Kotecha, founder of a sustainable fashion and lifestyle brand working on upcycling discarded plastic. Currently residing and working in Athens, Greece, Diti rose from the experiences which opened her eyes to consumerism and its effects on plastic.
She founded Thela in 2019, intending to provide innovative solutions to deal with the problem of plastic. Thela is a brand of upcycled, handcrafted, ethical fashion and lifestyle items. Upcycling plastic trash is one of the primary operations, preventing it from filling landfills, polluting oceans, and damaging animals. 
Their signature items include universally wearable, handcrafted plastic woven bags. Thela furthermore creates handcrafted jewellery and accessories. Check out their range here.
Cycling through upcycling: The journey of Thela
From working in the FMCG sector of India to working with organic and sustainable brands, Aditi had her share of experiences, which led her to start working on upcycling plastic. She gained knowledge of consumer products, consumerism, excessive consumption, and plastic packaging through her employment. She studied how valuable plastic is as a material and how it has significantly altered society in many good ways. However, it is no longer valuable due to consumerism and casual use.
When Diti shifted to Athens, Greece, she realised that there was a bigger problem outside India. In her words, "Consumerism came to India pretty late. So we know how to live without plastic because we have done it in the near past. But developed countries have it worse, for they can't recall when they weren't using plastic in their everyday lives."
Diti's passion shined through when she made handmade accessories and projects for her relatives. She was suggested to convert her passion into a business. But Diti knew she couldn't work on it alone, for art is diverse. Her prior experiences of working with communities and artisan workers provided her with a support system. Soon, she started working with already established craft and trade units.
In 2019, Thela was established. With a small team, ethical and sustainable partners, Diti was ready to create a big impact, while doing business locally. Her immense dedication to art and craft when combined with business and ethics, is what Thela is made of. Thela's major objective is to locally address the challenges of worldwide plastic waste. The brand promotes creative plastic solutions by upcycling and educating. 
The process of creating upcycled Thela products
The process of creating Thela's upcycled products start by collecting trash from the roadsides. Yes, this means no new plastic is used to make bags and accessories. Everything which had already been discarded on the curbside or at bhangarwaalas is collected. In Athens, Diti also initiated waste collection from local farmer markets, collection drives and off-the-street collection.
This waste is then segregated. The waste includes food packing wrappers, MLPs, and large plastic sheets used for packing or agriculture. Hard and battered plastic, unsuitable for weaving, is not collected. This segregated waste is then washed with the help of natural, chemical-free detergents and dyed with the help of natural dyes.
This plastic is then cut into striped and woven with the help of local artisans who use crochet and weaving methods to make the fabric for stitching. Diti mentioned how crocheting was losing its shine through the years. Such initiatives help in reviving old crafts and also supporting local artisans.
During our interview, Diti explained how small operational details play a huge role in ensuring that upcycling goes sustainably. In her words, "We made sure that we minimised cutting of woven fabrics as these little pieces then act as micro-plastics and have a bigger impact on the environment."
Such little details make sure that there exists no need for the ends to define the means.
Role of communities in upcycling
Currently, Thela has partnered with some unique and hardworking communities. Their objective is to collaborate with cultural craft units and ethical material suppliers who share their commitment to social and environmental sustainability.
Kutch-based platform Khamir is one of the main partners of Thela. They work with the artisans of Kutch, which help them repurpose the local waste into fashion accessories. They collect trash, wash and dry it, cut it into yarn (made from any used materials, including textiles and plastic), and handcraft it. Khamir participates actively in the plastic weaving initiative, which employs inmates, members of diverse groups and educates the townspeople.
After receiving the fabric, it is tailored at the CC Shroff Self Help Center in Mumbai. The primary goal of the Self-Help Center is to grant low-skilled and physically challenged individuals' economic independence. These craft and tailoring businesses have significant social effects.
With a focus on zero waste and the environment, Diti enters the picture. Even though the centre was shut down two years ago, Diti made sure to work with the artisans personally, teaching us how to keep the art alive.
Another way Thela is connected with the communities around is by donating the waste produced. Even though Thela focuses on minimal waste by optimizing their stitching, any waste produced goes to a design company called 'Minus Degre' which works with plastic garbage to create furniture, jewellery, and other works of art. To know more about other communities, check out Thela's page here.
Thela can develop more swiftly in areas where there are artists and craftspeople. Thela is about to begin working with a group that is devoted to helping refugees. Diti will work on the environmental impact because the creative process has now been delegated. Working with pre-existing units enables Thela to recognise how everything is interconnected and will allow to carve out time to focus on educating other.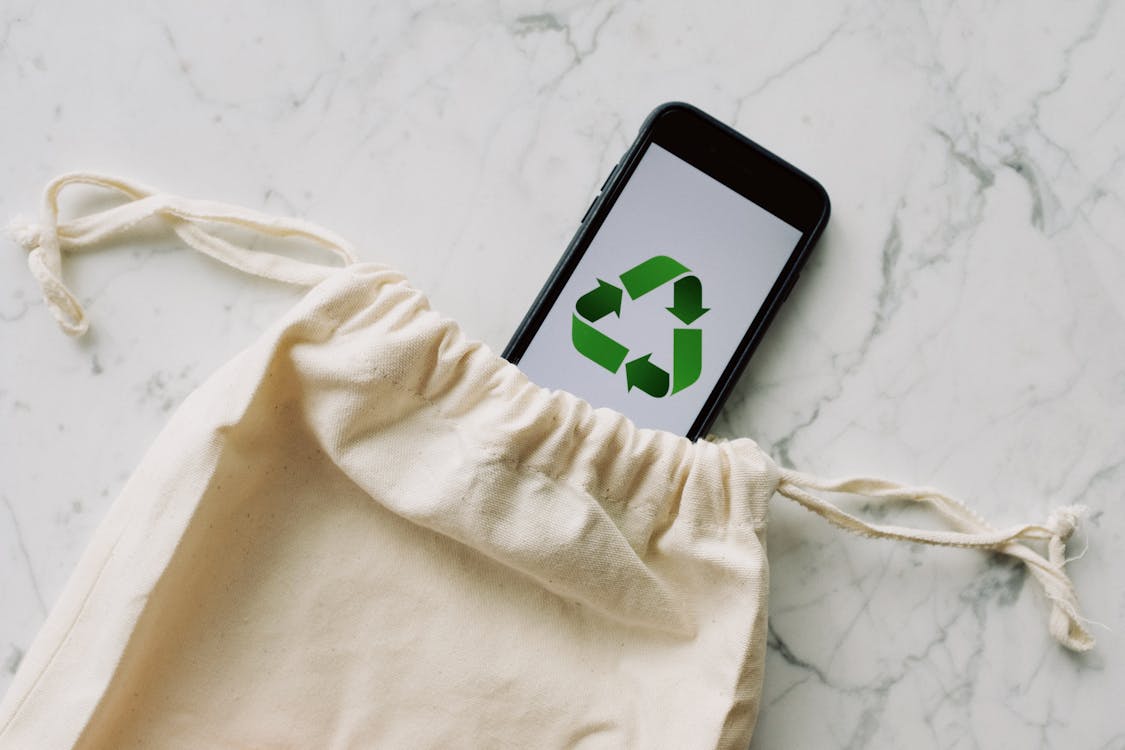 If you pay less in the fashion sector, someone else is undoubtedly paying more. Long-term use results in cost savings in the sustainability industry because products last longer.
Plastic is the cost one pays for convenience. The real benefit is in reusing rather than in discarding. Like using menstrual cups instead of disposable pads turns out to be advantageous in the long run.
Diti referred to how the impediment to sustainability is greenwashing. Customers, though, might not find it to be an obstacle. Diti noted that whenever she wants to buy something, she contacts the company to inquire. We should conduct research and get in touch as consumers and learn more about the product and its core values. One way forward is to start practising mindful shopping.
Future of upcycling with Thela
Plastic is a wonderful invention; it served as a replacement for animal products, but today it is because of plastic that animals are getting instinct. Single-use materials are problematic. The creation of more plastic and the disposal of used plastic are the core issues with plastic. It won't be necessary to buy new plastic if it is continually recycled or upcycled. We must learn how to repurpose plastic because we need it, and it is a valuable resource.
Diti and her spouse are the core of Thela's team. Her mother organises shipment to India, while Diti oversees production, shipping, and logistics, and her husband manages the business.
Thela has an Indian registration and will shortly have a Greek registration this month followed by a physical store. Diti desires a decentralised future for Thela. They want to establish clusters in other nations, and they even want to establish a unit in Greece that will serve other units. In the future, other nations could adopt the same model, leading to decentralisation.
Message to our readers from Diti
"Firstly, I would like to say that as a consumer, the best thing you can do is create awareness and participate in mindful purchases. I want to go out of business; I don't want to work with plastic for my whole life. I want to experiment with other materials, but seeing the need for today, upcycling plastic is a way forward. Readers need to be conscious of their actions. Being conscious of your actions is a tremendously freeing exercise that is also extremely interesting. It's not about getting rid of plastic. It's about understanding its use, effects, and alternatives, and knowing where to draw the line."
Diti also encourages readers to reach out to her if they want advice about starting their own sustainable business.
If you're interested in initiating a conversation with Diti, fill out this form here, and we'll make sure to arrange something to support your sustainable dreams.
Discover products and services in sustainability
Have a look at the products and services available near you
How to work with hydroponics at home? Tips from a research scientist
Join our monthly newsletter for inspiring stories